The Altitude of Virtue
Synposis & Excerpts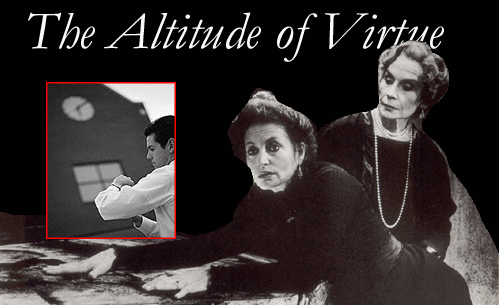 A drama about a wife who tries to prevent her husband from committing a crime—dumping hazardous waste in Mexico—and about those around her who act to obstruct her and let the crime go forward.
From the play:
Mother: Dear, men do what they want. It doesn't matter what we say.
Faith: Wives face Judgment Day too, Mother….
Accepted for broadcast, Radio Zid, Sarajevo (during the siege of 1992-96).
Finalist, Festival Cervantino, Mexico.
Reading, Source Theatre, Washington, D.C.  Cast: JANEY RICHARDS and GARY TELLES.  Director: RANDYE HOEFLICH.
Comments
Theatre agent: "Ibsen's Enemy of the People from the wife's point of view."
Gottfried Wagner, director: "…of great importance for our time, because it grapples in a very convincing way with the vital problem of personal ethics. Considering the contemporary theatre scene and its superficial topics, I wish this play many international audiences."
A drama about a woman who tries to prevent her husband from committing a crime—he's in hazardous-waste management and is about to dump toxins in Mexico—and about those around her who find good reasons to act against her and let the crime go forward.
Faith Perdue must confront the core values of her comfortable life when she learns that her husband Will, founder/CEO of a hazardous-waste management firm, having exhausted disposal options in the U.S., plans to dump toxics across the border in Mexico in two days.
At curtain rise Will, hailed as "the hero of Las Palmas" for removing dioxin from daughter Carrie's school, announces he has landed another multimillion-dollar deal; Carrie announces her hero father is to address her student assembly; and Faith, newly appointed director of the historical preservation society, announces she conquered her nerves to persuade City Council to save a vintage house. But when Will presents Carrie with a radar detector for her car and when Faith apprehensively raises her objections, the chink in their marriage is seen.
The play's action mobilizes when son Guy, who has worked as Will's partner for three years, informs Faith of Will's plan. Faith, visualizing the victims and recalling Will's earlier settlement of a dumping charge, accepts the upcoming dumping as fact and asks Guy's aid in dissuading Will. In this, her odyssey is less one of discovery and more one of action as she seeks allies to confront Will. However, Faith is obstructed at every turn: Guy, heir to the business, balks, unable to send Dad to prison; her mother, counseling trust, argues that Will must have an explanation; and Abby, wife of Will's vice-president, accuses Faith of disloyalty, not really loving Will, and, when Faith calls Will's former lab director to verify if the earlier dumping was accidental, treachery. Equally destructive is Faith's sense of her own guilt, which she raises and Abby uses: Faith thought it "fishy" Will settled the earlier charge but she said nothing; she likes the good life, also she is in Will's psychic and sexual thrall.
Act One presents the ethical dilemma, Act Two the emotional costs of Faith's struggle: Guy disappears; Mother reveals that she stood by Faith's physician father in a Medicare fraud; Carrie threatens to run away. At the climax Faith rejects madness to choose sanity—and finally confront Will, alone.
A note: The play flows from my conviction that our principal national problems are moral and ethical in nature, because people accommodate; what if one person cannot? Faith asks the right questions (though others have the "right" counter-arguments): "How much do we want to know?" "Maybe personal happiness isn't the most important thing"; "Wives have Judgment Day too"; and "Why do I have to apologize for compassion?"
(The play's title is from Shakespeare's Coriolanus, with the meaning altered.)
CHARACTERS
FAITH—wife, in her late 40s
WILL—husband, in his late 40s
GUY—son, in his mid-20s
CARRIE—daughter, 16
MOTHER—Faith's mother, in her late 60s
ABBY—wife of Will's company vice-president, in her late 40s
INEZ—Mexican maid (non-speaking role)
SETTING
In the living room of the Perdue family, in the fictional city of Las Palmas in Southern California.
TIME
Today.
"There is no such thing as evil, just the gradual removal of good until none is left." — St. Augustine
"The secret of great fortunes with no apparent source is a forgotten crime, forgotten because it was properly carried out." — Balzac, Pere Goriot
EXCERPT I : Scene 1, Act One
Setting: The living room of the millionaire Perdue family. Furnishings are plush and in soft tones. The art is contemporary. There are various systems and gadgets (CD player, entertainment center, computer, telescope). To one side is a section of the kitchen, with counter and stools. Upstage is a floor-to-ceiling window, with the ocean surf crashing noiselessly on the rocks outside. Generally to suggest: Easy living, but hard choices coming up.
At rise: Amid much distraction—a violent scene plays soundlessly on the TV, music blares from the CD—CARRIE lies on the sofa, "studying." In the background INEZ works quietly, noting Carrie's studying, but saying nothing.
Enter FAITH. A quintessentially nice woman trying to combine motherhood and career, her manner is distracted, her ever-present smile is nervous. Here, struggling with groceries, she heads for the counter. INEZ, very fond of Faith, moves to help her.
FAITH
Sweetheart, the noise…. Turn it off, please. How many times have I told you, Carrie Ann, I don't want you watching that stuff?
CARRIE
Aw, Mom, all the kids watch. I'll be underdeveloped if I don't.
FAITH
"Underdeveloped." Honey, I care what goes into that sweet head of yours, and that stuff is—
CARRIE
I know: "idiotic, perverse, and utterly without socially or morally redeeming value." And then Dad'll say, "Give it a break, Faith, and rub my back."
They laugh and hug.
FAITH
That's Dad all right, but I don't sound like that. Do I?
CARRIE
Just a little. Like yeah. Mom, can I tell you my big news?
FAITH
Yes you can tell me your big news, but tell me while you put the groceries away and I make Guy's cake. He's coming over at 7.
INEZ motions that she will make the cake.
FAITH
No-no, Inez. For the hundredth time, una madre cooks, even it is a mix. But gracias.
CARRIE
O.K. Well, here it is: Mr. Yeager wants my illustrious Dad, your illustrious husband, to talk to our school assembly about how he got the dioxin out of the stadium and saved us dear little students from certain death. And he wants to hold the assembly in the stadium. Oh Mom, I'll be so proud. And he wants me to ask Dad tonight.
FAITH
Your Dad would love it, but you know, the disposal's not done yet. The clean-up was just a start. It'd be more interesting to tell the whole story, wouldn't it?
CARRIE
But Mr. Yeager asked. And he wants Dad to bring his guys in their moon suits. What a switch: Even jerky old Yeager calls Dad "the hero of Las Palmas," like everybody else. And Regina Langley, the cheerleader, you know what her dad said? "Will Perdue saved us from becoming Love Canal II, get it outa here!" Now maybe Regina will come to my pool party….(dips her finger in Faith's cake batter).
FAITH
Hey, you get outa here. You'll make it fall.
CARRIE
I wish Guy still lived with us. I miss him.
FAITH
Me too. But young men want to be on their own. You give them roots and wings….
CARRIE
Yeah, but he's gotten so serious, working for Dad.
FAITH
It's a serious business they're in. (Tastes) I'm starved too. I, uh, evacuated my lunch.
CARRIE
You mean you barfed, Mom? Again?
FAITH
At least this time I barfed after my speech and not before. Grease this pan. Well, aren't you going to ask me my big news?
CARRIE
Sure, Mom. So: How'd it go with City Council?
FAITH
Ta-da: The McGill-Taylor House is now an official historic landmark.
CARRIE
Yay, Mom!
FAITH
—and George McGill was one historic robber baron, ta-da…. Anyway, we have to go before the Budget Committee to discuss funding, which means another speech—
CARRIE
—which means more barfing. Mom, I don't know why you get nervous. You're so pretty.
FAITH
You think so? Still? What'm I thinking of? Beauty, young lady, is not the point. (Beat) I get nervous because, well, I never think I know enough. It was so much easier when I was the Society's receptionist. But: I need to do this, get out there. I don't know how your father does it though: speechmaking.
CARRIE
"Tell 'em what you're gonna tell 'em, then tell 'em, then tell 'em what you told 'em. Bueno!" (Dips into batter again)
FAITH
Honey, please! Scoot, shoo, vamoose. (Noting carpet) Ohhh, somebody tracked dirt on the carpet. Carrie Ann?
CARRIE
Not me, I'm wearing socks. Aha: It was Inez. Inez is the culprit.
INEZ, embarrassed, protests. FAITH hugs her and laughs.
FAITH
Don't be embarrassed, Inez, it's just a joke. And you, prankster, is your homework done?
CARRIE
Not yet.
FAITH
What're you studying? (Slides cake into oven)
CARRIE
The Holocaust.
FAITH
(Stops still) That is a very important subject. It can't be studied in one night.
CARRIE
I know. Mom, I don't understand: How could the Holocaust happen? So many people dead?
SOUND offstage of a car screeching to a halt, door slamming shut.
FAITH
I guess you'd have to say—not enough people spoke up. We'll talk more about this, later.
Enter WILL, with box. With him Faith's manner changes: With Carrie she is firm, but with Will she is more pliant. INEZ, however, does not like Will and shows it.
WILL
Listen up, everybody, for a couple of muy importante announcements. First: Guess who just landed the $30 million-dollar Cody City sludge deal?
CARRIE
Oh I don't know. Hey Mom, what's the name of that hot company: Enviro-Fix, Inc.?
WILL
You got it, kiddo. Two or three more jobs like this—and I can go national. I'll have achieved the "economies of scale." Key concept, Kitten: economies of scale.
CARRIE
Boring….
WILL
Oh no: exciting! So, Faith-honey, what do you think of your husband now?
FAITH
I think he's pretty amazing.
WILL
We've come a long way from the aroma of Tacoma, haven't we.
FAITH
Like a fairy tale.
WILL
And it all started, once upon a time, when the guy from the mud flats won the prettiest girl in the biggest house on the highest hill….
They kiss.
CARRIE
You guys…. Hey Dad, since you always dump on Tacoma, why don't you clean Tacoma up?
WILL
Great idea, Care. You should come work for me too, be my Director of Development. National.
CARRIE
I couldn't direct a thing. I just want to be a singer, I think.
WILL
You know, if I did do that humungous job, we could get on with our dream house.
FAITH
This house is dream enough. I couldn't go through the nightmare of construction again.
WILL
Oh no. This house is just warm-up. I want to build us our Versailles, a house so big and drop-dead beautiful, with all those architectural features you talk about—finials, broken pediments?—that a hundred years from now groups like yours'll be out campaigning, "Save the Perdue House!"—Hey what an idiot, I almost forgot. How'd our speech go today?
FAITH
"We" were persuasive.
WILL
Banzai! I've created a regular Perry Mason. Come here and collect your prize….
CARRIE
So, Dad, what's your other announcement?
WILL
Oh yeah. Guess who's the newest member of the Symphony board?
FAITH
Oh Will, how wonderful—really.
WIL
You're not the only one around here with culture. Of course I had to drop big bucks on them.
CARRIE
What I don't get is why a guy who's stone-deaf wants to be on the Symphony board.
WILL
Hey, how about a little respect for your old man?
CARRIE
How about a lot? My folks are winners.
FAITH
Oh honey, that means that other people are losers—
WILL
Winning's the only way to go, it's a tough world and—Hey, who tracked in dirt? Inez?
FAITH
Will, please, you'll hurt her feelings.
WILL
Well, tell her to clean it up. (To Carrie) Hey, Kitten, got a little something for you. For your new Alfa. Open it. You got the car inspected, right?
CARRIE
Right. Oh great: a radar detector! Just like yours, Dad. Now my car's "fully accessorized."
WILL
Bueno. Let's go install it.
FAITH
Uhhh, before you do….
WILL
What is it, Faith?
FAITH
Oh honey, I just wish, you know, maybe you'd—discussed this with me….?
WILL
Faith: not again, O.K.?
CARRIE
"Yeah, Faith, give it a break."
FAITH
Carrie Ann Perdue.
CARRIE
Sorry, Mom.
WILL
Honey, relax. It's another red-letter day and this arrived from Sharper Image and, besides, it's only a trinket, it's not even a big-time gift.
FAITH
But—it's not a trinket, it's symbolic of—
WILL
The Master of Fine Arts again. Hon, one more time: It's protection. Police radars can be wrong and you need protection. Lighten up.
CARRIE
Dad, be nice.
FAITH
But, Will, it's breaking the law. They're illegal in California.
WILL
Faith, it's a dumb law and I'll bet half the legislature drives around with these things.
CARRIE
STOP! Both of you, just stop! Let's forget the whole thing. O.K.?
FAITH
Oh darling, I'm sorry, we've upset you. I'll stop.
CARRIE
Dad?
WILL
O.K. But seriously, I'll bet you half the legislature does drive around with these hummers and don't ask me to give up mine.
FAITH
Maybe they're O.K. for you, but Carrie's just learned to drive and I don't want my child—
CARRIE
I'm not a child and I can decide things for myself, you know.
WILL, unnoticed by Faith, catches CARRIE's attention and mouthes "Later."
FAITH
I know, but I wish you wouldn't drive around with that thing. I'm sorry, but it's what I think.
WILL takes Faith in a dance hold.
WILL
And that, hon, has been your problem since the beginning. You think too much. You know, Kitten, in kindergarten your mother used to ponder about which rug she was going to nap on.
FAITH
And how would you know, since you were out on the playground, extending your recess?
Enter GUY. His mood is grim.
CARRIE
Hey, my bro! (Hugging Guy) Guy, can we go to the movies tonight, like you promised?
GUY
I don't know, Care. I've got things to do….
CARRIE
Yeesh, you're super-serious.
FAITH
I'm baking your favorite cake, dear. Smell?
GUY
Thanks, Mother. Um, hello, Dad….
WILL
Hey, buddy! You should be beaming. Our son was key to landing the Cody City deal—key.
GUY
I just did the stats for the proposal, which ended up in the appendix.
WILL
You don't want to clutter your main message. But stats clinch your case. Faith, Guy's graphs could hang in a museum, they're works of art.
CARRIE
Dad, Guy's in a bad mood. Can I tell you my news? I have major news.
WILL
Sure, Kitten, in a sec. I want to talk to my partner first.
FAITH
I'll start dinner. Carrie, set the table, please?
WILL
So, partner: What's bothering you?
GUY
Nothing, really. I, uh, didn't sleep much last night.
WILL
Good for you. Look, I know I've been piling the work on you. You're beat—
GUY
It's not that.
WILL
Hey, if it's the export deal…. (Beat) Is it?
GUY
Yeah. Dad, I want to talk to you about that—
WILL
Look, I took the con because we need to expedite this one, fast. But we're partners, you're not being excluded.
GUY
It's not that. It's….
WILL
What, son?
GUY
Nothing. Forget it. I am beat.
WILL
Good. Oh, and partners keep their business between themselves, O.K.? Now see what you can do to cheer your Mom up. She's upset with me, you know how she gets.
GUY
Yeah.
CARRIE
Now, Dad? Now?
WILL
Sure. Tell me out in the garage.
FAITH
Will, please….
WILL
(Exiting) We won't install, we'll just discuss.
CARRIE
(Exiting) Yeah, Mom. I have to decide for myself.
GUY
Where are they going?
FAITH
To install a radar detector in Carrie's car—which I don't like one little bit. (Beat) You don't like it either, I see. Ah well, what can one do? Where there's Will, there's his way.
GUY
Yeah….
FAITH
Something's bothering you, dear. Want to talk about it? Is it—women problems?
GUY
Mom, if you're going to joke—Jesus, this family's great for the jokes.
FAITH
Forgive me, dear, it's that detector business. Tell me, maybe I can help.
GUY
I don't know if you can. You two looked pretty cozy when I came in.
FAITH
Of course we're cozy.
GUY
On the other hand, you're not that close, either….
FAITH
Guy: What are you getting at….? Tell me, please.
GUY
I want to, but: I don't know if I can trust you.
FAITH
Son, it's me: Mom.
GUY
O.K. But you have to promise not to tell Dad, I don't want him to think he can't trust me.
FAITH
I don't know if I can promise that. Your father and I don't keep things from each other. (Beat) Actually, we do. At least your father does….
GUY
Agreed then?
FAITH
Dear, I don't like—internal alliances.
GUY
Then I'll just go.
FAITH
Guy, I can't bear to see you like this. O.K.: agreed.
GUY
Inez….?
FAITH
Inez, por favor. En la otra sala? Si, gracias, gracias.
INEZ exits.
GUY
I don't know how you're going to take this, but….: This afternoon I overheard Dad on the phone—Mom: Dad's going to dump the dioxin in Mexico. I heard him on the phone—
FAITH is dumbstruck.
GUY
—I heard him talking to—an outlaw trucker—about hauling the dioxin, all 200 barrels, across the border. He said he didn't want to know where it went, "just get it outa here." He said he'd cook the manifest and labels to say "residuals and neutrals": "something innocuous"—
FAITH
Oh Guy, you're wrong. You are very, very wrong.
GUY
I wish to God I was. This is my father we're talking about.
FAITH
Your father couldn't do such a thing. You're still new at the business, Guy, you've—misunderstood. Your father has made some—technical arrangement you don't know about.
GUY
Mother, I've been with Dad three years, I'm off probation. I know dumping when I hear it.
FAITH
Don't say that word! He is your father. After all he's done for you!
GUY
For God's sakes, Mother, I'm not the villain!
FAITH
And neither is your father. Guy, your father wouldn't do anything—criminal. This is all a—a joke. You know how he and Ed joke, about slipping PCBs into each other's coffee?
GUY
This is no joke, Mother. I heard him clear as a bell—if you want to hear.
Long beat. FAITH finally nods Yes.
GUY
Dad sent me to the lab, with Ed, but when I got there I realized I'd left my clipboard in Dad's office, so I went back. Carolyn was away, I walked in. And there he was, his back to me—
FAITH
Then you didn't hear right. And where would he find an outlaw trucker, in the yellow pages?
GUY
Later, when I got back from the lab, Dad announced we were exporting the dioxin ASAP and since we'd never gone the export route before, he'd take care of the details. But, I checked the details: There's no EPA notification on file—I do those—and you have to have a bilateral agreement and there hasn't been time for one, and you have to ensure that the environmental standards of the receiving country are equal to your own and—Mom: It's dumping.
FAITH
I've spent my entire life with him, Guy. He is my life. I love that man.
GUY
At least he told the trucker to find someplace isolated.
FAITH
No-o-o-o! It's not possible! My husband would not dump!
FAITH and GUY look at each other.
FAITH
Why….? Why is he doing it?
GUY
He's trapped. We've tried every landfill in this country, but nobody's taking. They're either filled up, or when the community finds out it's dioxin, they're out in the streets. He's down to Plan Z. And the deadline's coming fast: You have 90 days after clean-up to dispose and if you miss it, you take 100% liability. The stress is unbelievable. Dad chews antacids like gum.
FAITH
Isn't there some other way besides—dumping?
GUY
There's incineration, but it's way more expensive than a landfill. I suggested it—twice—but he said, "No way"—and the second time he drilled it. (Beat) You know, Mother, the only good news is: I see you didn't know.
FAITH
Oh Guy, what are we going to do? What?
GUY
I don't know if there's anything we can do. I never win with Dad, and neither do you.
FAITH
Guy, this cannot happen. We've got to talk your father out of this. People are going to die.
GUY
Mother, I told you up-front: This is between you and me—
FAITH
But if both of us went to him—
GUY
Then he'd know I couldn't keep a business confidence—
FAITH
What's that matter if people die? I—don't understand you.
GUY
That's not the only thing—
CARRIE enters in a rush.
CARRIE
Dad's going to do it! He's really going to do it!
FAITH
Uhhh, what's he going to do, sweetheart?
CARRIE
Speak at my school assembly. And he wants me right there—beside him! It'll be the most perfect day of my whole entire life so far. (Beat) Something's wrong here, I can tell. What is it?
FAITH
Nothing, dear.
CARRIE
It doesn't feel like "nothing" to me.
GUY
That's because you've got a hyperactive imagination, Kitten.
CARRIE
I'm not a kitten. I can handle—stuff.
FAITH
Dear, Guy and I were discussing a personal problem.
CARRIE
Whose? (To GUY) Yours? Does she have a name, this personal problem?
GUY
Yeah she has a name. It's Nosey. End of discussion.
CARRIE
O.K., O.K., I'm going. Oh Mom, Dad says he'll be in for dinner later. He's—
FAITH
He's installing the radar detector, isn't he?
CARRIE
Yeah, but I sort of decided it was a good idea. It is protection.
FAITH
But you don't need protection if you're going the speed limit.
CARRIE
Dad's taking precautions. He's hiding the sensor in the grill and the receiver in the glove compartment—
FAITH
Why "hide" anything? Honey: It is wrong.
CARRIE
Then why is it O.K. for Dad? I don't understand.
Silence.
CARRIE
Sorry? (Exiting) I gotta go help Dad.
FAITH
What a weak, dumb woman I've been—
GUY
Mother, don't.
FAITH
Well, one very big symbol—Will's radar detector—of a not-so-small problem has been sitting in front of me all these years—me, in the go-along-and-make-nice passenger seat—and I have failed to do anything other than wrinkle my nose and whimper.
GUY
Mother, you're not to blame.
FAITH
Aren't I? I buzz around so "interested" in things, and so blind. And yet, not so blind….. This propensity of your father's to cut corners is not a surprise.
GUY
Mother, Dad's going to be back here soon.
FAITH
What words did he use, Guy? How did he say it? Did he actually say "dump"?
GUY
No. Is this important?
FAITH
I'm trying to see the man I'm married to. Do you know—if your father has—dumped before?
GUY
I don't know. I don't think so.
FAITH
Five, six years ago there was that settlement. Diablo Flats.
GUY
That was before I got there. All I know is, the office is jammed with EPA stuff: notifications, approvals, inspections. Dad bitches about the EPA "clowns" and their paperwork, but we file it.
FAITH
Except this time. (Beat) Son: "Business confidence" is no excuse for us not to—
GUY
Mother: The only way to stop Dad now is to blow the whistle and throw him in jail—and I'm not sending Dad to prison! You can't ask me to do that, Mother. I love him. He is my father. And….: There's something else to consider. The business will be mine someday, mine to run. Dad's been teaching me the ropes. It's one tough world, and Dad knows how to deal with it.
FAITH
But, Guy—
GUY
We pulled in $150 million last year. Business is booming and it'll keep on booming, but with more competitors every day and the media making a circus of everything, blowing the whistle would mean blowing everything to smithereens.
FAITH
So would dumping.
GUY
Not if nobody says.
FAITH
Good God, people are going to die!
SOUNDS of WILL and CARRIE returning.
FAITH
Why did you tell me this?
GUY
Share the misery, I guess.
CARRIE
Let's eat! We are famished.
[SCENE CONTINUES]
EXCERPT II : from Scene 2, Act One
[Preceding action: Scene 1 ends with Will forcefully establishing with Faith his "territory"—she is to stay out of his business—after which he leads her off to "their" territory, the bedroom. Also established is Faith's dramatic objective: finding allies. Scene 2 opens with Mother assuring Faith that Will must have his reasons to export. Enter Abby, wife of Will's v.p., whom Faith has invited over because she knows more about company "ops" than Faith and Will says she's "sharp." Faith gets right to the point: Guy has told her Will plans to dump. Abby defends Will, that he would not dump.]
ABBY
But why am I defending your husband? You should be doing that. Where's your loyalty?
MOTHER
Exactly.
FAITH
Speaking of loyalty, Mother…. So, Abby: It's dumping, isn't it.
ABBY
Maybe Guy's hearing is off. Has he had it tested lately?
FAITH
Abby…..
ABBY
O.K., you're right, Guy's right! It sounds like dumping, it sounds like dumping. Are you happy?
FAITH
No. But thank you for the confirmation.
ABBY
Confirmation? I just said it sounds like dumping. Will has an explanation.
MOTHER
Thank you.
FAITH
Mother: Would you like to go freshen up?
MOTHER
No I'm fine as I am.
ABBY
I need a drink. Did somebody mention a drink? Where's your maid?
FAITH
I gave her the day off, considering. Inez is Mexican.
ABBY
Mexican? I thought she was Philippino.
MOTHER
I'll do it. What would you like, Abby?
ABBY
A margarita. Real salty and real fast.
FAITH
Ah yes, wonderful Mexican import, the margarita. For which we're going to pay back with one pip of an export.
ABBY
Well, Mexico sends us drugs.
FAITH
Abby!
MOTHER
Faith, something to drink?
FAITH
Nothing. I'm getting a stomach-ache.
MOTHER
I'll fix you a Bromo. I always carry some in my suitcase.
ABBY
Faith: If you understood business realities better, you'd know there are winners and losers.
FAITH
But must there be victims? It could by your Joshua and Kyle.
ABBY is silent.
FAITH
And besides hurting innocent people, it could hurt the company too—if it got out.
ABBY
Jesus, Faith, you're not thinking of—leaking?
FAITH
There wouldn't be any need to, if….. Abby: Would you go with me to talk Will out of it?
ABBY
What?? Wives don't do that kind of thing. You promised you wouldn't ask me to do anything. That's—that's entrapment, Faith, entrapment.
FAITH
Then what does a wife do when she knows her husband is about to dump?
ABBY
Your husband, not mine. Ed's not involved in this, so why should I get involved?
FAITH
Will would listen to you. He always says you're "so sharp."
ABBY
He does….? I'd have to think about it and decide.
FAITH
But you can't "decide" dumping is wrong. It just is.
ABBY
Don't go dictating morality to me.
FAITH
You like to "keep busy." Let's get busy about something really important: life and death.
ABBY
Thanks for judging the way I run my life. Look we—You still don't know for sure it's dumping. There's got to be an explanation not even Guy knows. Hey: Why don't you get Guy to go with you, to discussion your "impressions," huh? Huh?
FAITH
(Beat) I can't reach him.
ABBY
Oho, the eavesdropper has disappeared?
FAITH
He's having a hard time believing his father could dump.
ABBY
He should be having a harder time about snitching. Snitching and disloyalty, that is the worst.
FAITH
Worse than killing? What a peculiar set of priorities.
ABBY
I'm outa here. I'm not going to sit here and be insulted.
FAITH
Wait. One more thing.
ABBY
I've already had more fun than I can stand, Faith.
MOTHER
Faith, your guest wants to leave.
FAITH
It's about the settlement, Abby.
ABBY
WHOA! What's that got to do with this?
FAITH
I need to know if this—if dumping has happened before.
ABBY
Christ, Faith, what do you think our husbands are—a couple of crooks?
FAITH
Then why didn't they fight the charge? Why did they settle Diablo Flats rather than fight?
ABBY
Because of the expense and the headache of a protracted trial. Faith, the settlement is settled. Actually, I was sorry we didn't go to court. I'd gotten a terrific wardrobe for the TV—TV colors—and then all your friends get together and throw you a support dinner.
FAITH
Another strange American custom.
ABBY
There you go getting moral again. What makes you so holy?
FAITH
When there's dumping, some moralizing is necessary. Abby: Will and Ed didn't fight the charge because they dumped, didn't they. (Beat) We can find out by calling Darrell.
ABBY
WHAT??
MOTHER
Who's Darrell?
ABBY
A competitor. Faith Perdue, what kind of destructive burr is under your saddle?
FAITH
Before Darrell became a competitor, he was Will's lab director. And he left around the time of the settlement. I remember, because Will was angrier about Darrell than anything else, kept calling him a Judas.
ABBY
Darrell didn't leave, Faith. Will fired him.
FAITH
Why would Will fire a man he was so thrilled to land in the first place, with all his degrees?
ABBY
They had to move fast and Darrell was one big delay. They called him Speed-bump.
FAITH
I have a feeling Speed-bump has the information we need. We just have to decide how much we want to know. How much do we want to know, Abby?
ABBY
O.K. You don't have to call Darrell. Faith, don't get crazy, but: Something did happen. It was an accident—an accident. The guys did not know what they were disposing. The chemical company that contracted them—Silva Chemical—Silva lied to them about what was in the barrels. Lucky for everybody, the guys disposed out at Diablo Flats and not around a population center. Faith: They did not know what they were disposing.
FAITH
Do you really believe that?
ABBY
Of course! I'm not in the habit of doubting my husband.
MOTHER
Good for you.
FAITH
Mother! Abby: How—if they had a laboratory and they had Speed-bump for a lab director—how could they not know what they were disposing?
ABBY
Maybe they thought Darrell was wrong.
FAITH
Let's find out, Abby. (Moves to phone)
[Faith calls Darrell, while Abby and Mother protest vehemently.]
FAITH
(Hanging up) I knew it: Will knew. And so did Ed. Ask and ye shall perceive.
ABBY
Ask a competitor and ye shall hear lies.
FAITH
Do you want to hear, Abby?
ABBY
No I don't want to hear, Benedict Arnold.
MOTHER
—Ladies—
FAITH
Abby, our husbands had knowledge.
ABBY
"Had knowledge": Christ, you sound like the Holy Bible—Whoa! Just now, when you hung up, you said, "I knew it…." Mrs. Forsyth, didn't she say that?
MOTHER
I believe you did, dear.
ABBY
What did you mean, Faith-of-the-Suspicious-Mind? Huh?
FAITH
Well, I thought perhaps it was a little fishy that Will settled—
ABBY
And when did you have this knowledge? Just since Guy unloaded last night—or at the time of the settlement?
FAITH
(Beat) At the time of the settlement. Look, I've already castigated myself about that—
ABBY
Oh honey, let me help!
[SCENE CONTINUES, to end of Act One]