PLAYS
& Production History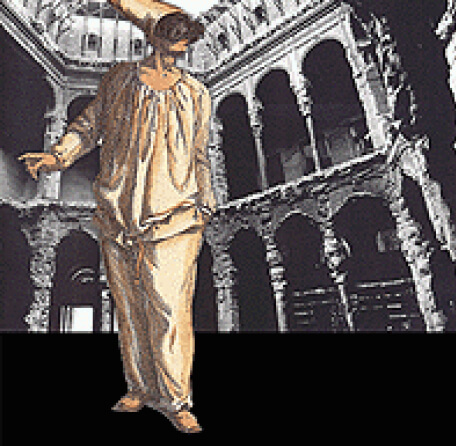 PRODIGAL
Play In Progress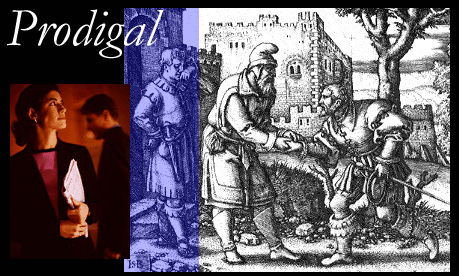 A drama about the Prodigal Son and his non-prodigal brother, examining the question, Why be good? A classic conflict revised.
The prodigal is an aging bad-boy filmmaker who's made a fortune and a major critical reputation with "edgy" films of violence and sex. With the popular response to 9/11 being an ever greater need for escapism, resulting in an increasingly crude American pop culture dominating both here and abroad, the prodigal is more successful than ever—yet he finds himself spiritually depleted. Also depleted is his older brother, the "good brother," a social worker who's burned out cleaning up after the prodigal's social debris: He sees himself being about damage control, which in this tinderbox world is essential, while his prodigal brother is about damage creation, thus contributing to the world's volatility. The prodigal, however, claims he's "just giving people what they want." In effect, after a lifetime of warring, they have knocked each other out. The play's major dramatic question becomes: Can they achieve the peace that, at midlife, they both desperately need? Can they revise this classic conflict? Acting as the pivotal figure is the good brother's wife, a former theatre director now a litigator, who pushes their rote argument into nuance—and synthesis.
The Prologue (entire):
Prodigal Son: "I'm home….."
Father: "My son!!"
Good Brother: (mouthing) "#&%*!"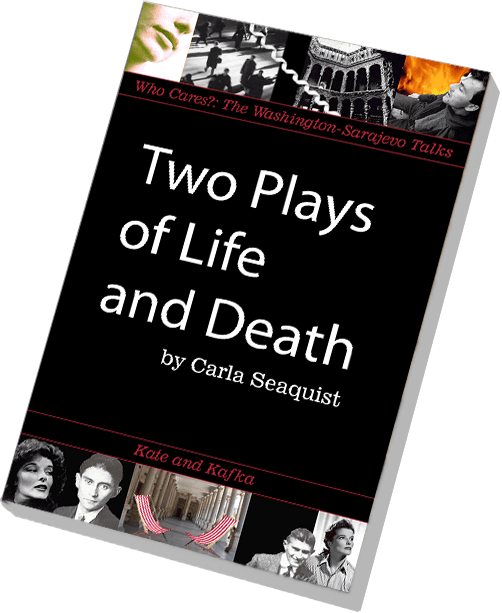 "Who Cares?: The Washington-Sarajevo Talks"
and "Kate and Kafka."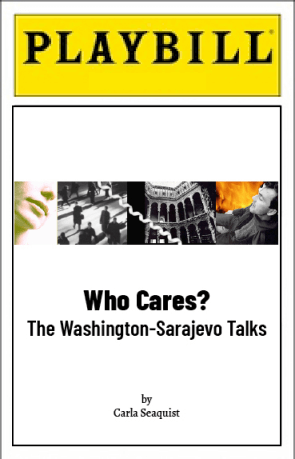 WHO CARES?
THE WASHINGTON-SARAJEVO TALKS
A universal drama about the Sarajevos of the world—warfare in the streets and on TV—dramatized in the bond forged over the phone between "Vlado," under fire by former friends, and "Rhonda," a citizen of the American superpower moved by the televised carnage to reach out. A drama about the saving power of human contact and normalcy in chaos.
From the play:
Rhonda: I only know if everyone could see each other as you and I do, throats could not be slit.
Productions to date: 3
Premiere production: VICTORY GARDENS THEATER, Chicago, 1997. Creating the roles of "Vlado" and "Rhonda" were RAUL ESPARZA and DEANNA DUNAGAN. (Raul reprised his role in the NYTW reading, below.) Director SANDY SHINNER: "People just love this play." THE WALL STREET JOURNAL review: "Like Harriet Beecher Stowe, Ms. Seaquist attempts to reach her audience by focusing not on abstract issues or principles, by on people…. In several ways, The Washington-Sarajevo Talks succeeds as well as Ms. Seaquist might wish."
Victory Gardens Production Archive
Reader's theatre production: THE STUDIO THEATRE, Washington, D.C., 1999. Sold-out first week of two-week run. Cast: STAS WRONKA and MARCIA CHURCHILL. Director: MOREY EPSTEIN. Literary Manager SERGE SEIDEN: "Such a human play." Young audience member: "Your play makes me think about the world!"
The Studio Theatre Production Archive
Full production: PHOENIX THEATRE, Indianapolis, as part of its Festival of Emerging American Theatre 2003. Cast: BILL SIMMONS and SHARON McDONALD. Director: MARTHA JACOBS. Artistic Director BRYAN FONSECA (at time when U.S. troops were about to enter Baghdad): "I can't think of a more timely play." INDIANAPOLIS STAR review: "A fascinating dynamic of big ideas and little vulnerabilities…. Provocative."
Special post-9/11 reading: NEW YORK THEATRE WORKSHOP, Feb. 2002. Cast: JANE ALEXANDER and RAUL ESPARZA. JANE: "Such an important play." Director LAWRENCE SACHAROW (Three Tall Woman, Beckett/Albee): "Brave and adventurous. An important play."
Special: Nihad Hadziomerovic, Sarajevan: "This play was my life." Aleksandra Bukva, Belgrade, Serbia (enemy capital), following worldwide broadcast of the play on Voice of America: "Your play is wonderful….so honest, and warm, it cannot leave a normal heart untouched, no matter how far away he lives from our tragic situation."
KATE AND KAFKA
Katharine Hepburn the Life Force meets Franz Kafka the Death Force and tries to change his attitude. Set in an end-of-the-world setting, the Sanatorium Ultime, amid biological warfare.
From the play:
Franz: If you wanted to, Katharine of Arrogance, you could be as sick as the rest of the human race.
Kate: Oh boy, is this place big enough for the both of us? Mr. Kafka: Do you live to live or do you live to die?
Franz: We're forever stumbling through unfinished suicides, give it up!
Kate: Your attitude offends me in the extreme. Leave this table!
DAVID RAMBO, playwright (God's Man in Texas), who made the final selection for the OREGON SHAKESPEARE FESTIVAL: "A literate, delightful collision of implausibility, wit, and big ideas that just works brilliantly."
ANDREA FRYE, director of OSF reading: "A fabulous, life-affirming play."
JIRI FISHER, director (Vaclav Havel's Audience): "Outstanding."
A.S.K. Theatre Projects: "Clever and unique. A highly original sense of style."
A MacArthur "genius": "A brilliant act of imagination."
Honorable Mention: New Works of Merit Playwriting Contest (2021)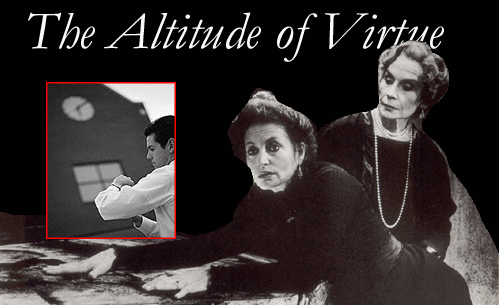 EXCESS ON THEIR HANDS
A dramatic comedy about the male preference for younger women, and about how one older woman deals with that, also how people at midlife recover their path—played out with alter-egos.
The alter-egos include: For "Jessica" (the central female character)—"Blue," her inner blues singer; "Val," her inner Valkyrie; Miss Congeniality; Emily Dickinson; Mother; and Child. For "Jack" (the central male character)—"Thug"; his inner best self, Ralph Waldo Emerson; Father; and Child. In final scene, a Waiter.
From the play:
Jessica: QUIET! You know, some people have a still, small voice inside. One voice. Still, and small.
Val: How can a voice be still….?
Blue: And why be small? (To VAL) We agree?
Jessica: But: I have the Metropolitan Opera crossed with a goddam jazz session!
Mother: Dear, the profanity.
Emily Dickinson: It fits precisely the World within.
Jessica: Yes, but: It's soooo discordant in here.
Sophy Burnham, executive director, Fund for New American Plays, The Kennedy Center: "I laughed so hard it hurt."
Major regional theatre: "We gave this play very serious consideration."
Martha Jacobs, director, Indianapolis: "Great idea, very funny."
THE ALTITUDE OF VIRTUE
A drama about a wife, Faith, who tries to prevent her husband from committing a crime—he is founder of a waste management company and feels forced to dump hazardous waste across the border in Mexico. In her quest to recruit allies to go up against her charismatic husband Will, she is obstructed on all sides—by her son who's heir to the company, her daughter who is Daddy's girl, her mother who stood by her doctor father in some Medicare fraud, and the company vice-president's wife who is most gung-ho of all—all who argue that Will knows what he is doing. Thus do "good" people allow a crime to go forward.
From the play:
Mother: Dear, men do what they want. It doesn't matter what we say.
Faith: Women face Judgment Day, too, Mother….
Theatre agent: "Ibsen's Enemy of the People from the wife's point of view."
GOTTFRIED WAGNER, director: "…of great importance for our time, because it grapples in a very convincing way with the vital problem of personal ethics. Considering the contemporary theatre scene and its superficial topics, I wish this play many international audiences."
 Imagery designed by Russ Holster, Gig Harbor.

Setting the stage for social catharsis

By KATE TAYLOR, Saturday October 11, 2003 – Page R3
Canadian and American audiences are ready for some dramatic transcendence.
That was the hopeful theme that emerged from a debate at the Ottawa International Writers Festival last weekend where I was moderating a conversation about whether theatre matters between two successfully serious playwrights determined that it does.
One was Montreal's David Gow, whose work ranges from his much-produced issue play Cherry Docs, about a Jewish lawyer forced to defend a neo-Nazi, to more psychological work such as his recent Sea's Niece, about a woman's mental breakdown.
The other was Carla Seaquist, a writer from Washington, D.C., who has recently moved to Washington state and whose drama covers a similar span of social, political and personal issues.
Her most recent play is The Washington-Sarajevo Talks, in which an American writer named Carla carries on a series of telephone conversations with a Bosnian radio journalist who is under bombardment.
Now, she's rethinking the theme of the prodigal, in a play that will pit a bad-boy film director in the Quentin Tarantino mould against his social-worker brother and so examine the American exaltation of the outlaw.
Seaquist is deeply critical of her own society and its theatre, decrying a rush to entertainment in the aftermath of Sept. 11.
"Right at the moment American theatre is beside the point," she said, citing the season of comedies, musicals and revivals that followed in 2002-03.
Writing in The Christian Science Monitor, Seaquist has called for a version of the so-called new normal that would feature less of the edge and more of the core in American behaviour. She defines the edge as the extremes permissible in a pampered, self-absorbed society, from road rage to the Bill Clinton-Monica Lewinsky scandal to the violence-made-comic of a Tarantino movie. The core is the kind of behaviour that appeared on Sept. 11, true grief and real heroism.
She sees America the superpower as a tragic hero struggling to emerge from narcissism and, recalling the social catharsis the ancient Greeks achieved through their tragedies, she and Gow debated whether theatre could play a civil role in drawing audiences out of themselves. Of course, when it comes to reminding us of our shared humanity, theatre has a huge advantage over film and television because actors and audience are physically present in the same room.
At a safe Canadian distance from Sept. 11, Gow was very cautious in ascribing great powers to tragedy, suggesting it might be an exhausted form.
He recalled that the nationalistic Canadian theatre in the 1970s had assigned itself a social role, but he felt audiences had grown tired of that tone, and turned to lighter American and British fare. Now, like Seaquist, he thought they were hungry for something new but wondered what shape it would take.
Responding to a question from the audience about where the classics might fit in the debate, he noted our inability to understand the Greek tragedies because we insist on emotional identification with the characters. It's not as though we can sit through Medea, in which the heroine kills her own children, thinking to ourselves "Gee, I've been having some trouble with the kids," he said, to much laughter. In an age of irony and cynicism, we cannot suspend disbelief long enough in the face of a Medea to experience catharsis, he said.
Both he and Seaquist are seeking new ways of reaching audiences, hinting at some hybrid that would re-establish the life-changing connection that Gow recalled Arthur Miller's Death of a Salesman made back in the 1950s, when its performances were reported to have reduced middle-aged, middle-American men to tears. Seaquist pointed to the success of the new American play Omnium-Gatherum, in which a group of racially diverse characters debate global events, as an encouraging sign. It's the first play to directly address Sept. 11 and it allows audiences to laugh, she said, arguing that real, deep laughter can only emerge from tragedy.
For his own part, Gow is working on a new play entitled Stream that's a satirical futuristic comedy investigating our often-visceral connection with our beloved computers. And Seaquist thinks that in her play about the prodigal son, the social worker's wife may emerge as the key character who can find a way out of the stalemate between bad boy and do-gooder.
She summed up our debate with a story about a neighbour whose wife had just given birth to a baby with a birth defect. After some quiet reflection in the hospital room, he announced, "Once we get past the self pity, we'll be okay."