MANUFACTURING HOPE: POST-9/11 NOTES ON POLITICS, CULTURE, TORTURE, AND THE AMERICAN CHARACTER
by Carla Seaquist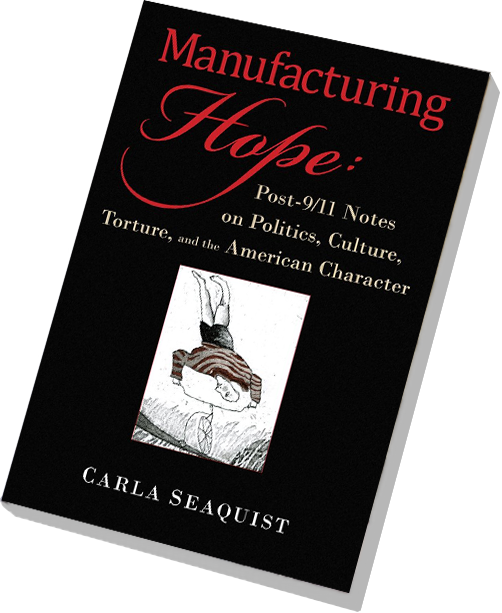 A collection of the author's commentary for
The Christian Science Monitor:
"Big-think in a personal voice"
Includes published work ("Reinventing 'normalcy,'" "Behemoth in a bathrobe," "Goodbye, Tony Soprano. Welcome back, Atticus Finch"); new work ("Of hypocrites, 'moralizers,' and Frank Rich," "Back to Casablanca," "Going after Godot"); and a section on torture (including "Abu Ghraib and the mirror," "Bush's torture policy hurts our soldiers," "Resetting our moral compass with a torture commission"). Described by The Christian Science Monitor as "big-think in a personal voice."
Introduction

viii

Manufacturing Hope

Reinventing "normalcy" (op-ed)

1
Responding to the call for normalcy in the aftermath of 9/11.
The American "street" and foreign policy (op-ed)

4
The sane public reaction to Bush's saber-rattling on Iraq.
Behemoth in a bathrobe (dialogue)

7
In which America is roused by its can-do spirit.
America, we need to talk—seriously(op-ed)

12
On the "shock and awe" invasion of Iraq, 2003: Quo vadis, America?
Accidental convention delegate gripped by hands-on democracy (op-ed)

15
In which the author wades into the political fray in the 2004 election.
At heart of good political discussion: the idea (op-ed)

18
To reduce the polarization, focus on the idea, not the person.
In praise of a murdered "do-gooder" (op-ed)

21
In appreciation of aid worker Margaret Hassan, killed in Iraq.
Stop the burlesque!: American pop culture in a tinderbox world (essay)

24
Exalting the irrational and the pathological increases the risk of destruction—
ours and the world's.
Notes for a moderate's manifesto (op-ed)

36
On the 4th anniversary of 9/11, a call to moderates to counter extremism.
Harold Pinter's pen betrays his normalcy

40
On the contradiction in the Nobel prizewinner's art and life.
Manufacturing Shame: America Descends to Torture
Letter to The New York Times

47

Abu Ghraib and the mirror (op-ed)

48

Marching orders from a survivor of Auschwitz (op-ed).

51

Democrats: Make torture a campaign issue and values a theme (essay)

54

Bush's torture policy hurts our soldiers (op-ed)

65

In '08: Reject torture—and redeem America's soul (op-ed)

68
Manufacturing More Hope
Free speech, responsible speech, and the "right to offend" (op-ed)

73
On the controversy of the Danish cartoons caricaturing Islam.
Of hypocrites, "moralizers," and Frank Rich (essay)

77
Hypocrites do not—repeat: do not—set the terms of the moral debate.
Wrong way to judge a candidate (op-ed)

89
A plea to the media: Don't make '08 another popularity contest.
Back to "Casablanca" (dialogue)

92
In which Ilsa returns from America to Casablanca for two things: for Rick and
for the dream of America as moral beacon.
Humanities for a post-9/11 America (essay)

103
Toward a more active application of the humanities in dark times.
In defense of the conscientious public (op-ed)

105
Speaking up for the conscientious versus celebrity-starved public.
From disaster springs humanity (op-ed)

110
On the "phenomenal" volunteerism following a flood in my home area.
A call for responsible change (op-ed)

113
To the '08 mantra of "change, change, change," what kind of change?
Put Iraq back on the front burner (op-ed)

117
A message to super-delegates.
The anger of (feminist) experience (essay)

120
A plea to Hillary Clinton's supporters not to bolt to John McCain.
Obama and American anti-elitism (op-ed)

125
How can a candidate of such humble beginnings, Barack Obama,
be an elitist?
Goodbye, Tony Soprano. Welcome back, Atticus Finch. (essay)

128
About the return of heroes and hope.
Hope and virtue (essay)

136
In praise of President Obama's stern Inaugural Address and nod to
George Washington.
Resetting our moral compass with a torture commission (op-ed)

141
Of the options—to investigate, prosecute, or leave be—torture, being a moral
issue, is best confronted in a commission setting.
Going after Godot about hope and torture (essay)

145
Don't just sit there and wait. Go after Godot! Manufacture hope!
Appendix
Goodbye, Tony Soprano. Welcome back, Atticus Finch: as op-ed

149
Sometimes History intervenes and drives one's themes.
When the terrorist attacks of September 11, 2001 hit New York City, Washington, D.C., and Shanksville, Pennsylvania, my husband and I were living in one of those targets—Washington, D.C. From our kitchen window high over Connecticut Avenue we could see, three miles away, the massive Pentagon on fire, filling the morning sky with a roiling, black cloud—a throat-catching sight I can still see. Over and over in my mind ran the headline, "The Capital City has been attacked, the Capital City has been attacked!"
Transfixed by the sight, I tried to fashion a response. History is happening, what do I think? In that moment, and as I dug deep the following weeks, I knew I didn't want to respond as the playwright I then was, to portray how "throat-catching" was that day and its aftermath; an emotional response wouldn't suffice. History had dealt America a blow, possibly a mortal one, and I wanted to make sense of it, help us recover. Best tool, it seemed to me, was the great legacy of the Enlightenment: Reason. In chaos, keep your head and think. I could return to playwriting once there emerged what Henry James called "the figure in the carpet"; but first, that figure had to be designed and assembled.
I began writing opinion pieces about the nexus where politics, culture, and the American character intersect—to me, a fascinating spot. To ferret out the deeper meaning I address topics after they have been chewed over by the commentariat. It was after several years, when the misrule of President George W. Bush had cast its own dark cloud over America—a cloud created by unnecessary war in Iraq, departure from rule of law, and, especially dark, our shameful descent into torture—that I realized I was…manufacturing hope. During the Bush years hope had faded and despair took told. I felt useful at the barricades manufacturing, with op-eds, the elixir without which America is not America: hope. This book contains those op-eds, as well as essays and dialogues.
The term "manufacture hope" comes from my experience in the mid-'90s when I had the honor to serve as lifeline, via phone calls, to a man under siege in Sarajevo. When the sniping escalated to shelling and it seemed Vlado might die, when all seemed, as he said, "hopeless," we began to speak of manufacturing hope. It worked: He survived. I hope it works for us, too. Vlado worried, post-Sarajevo, about what lay in store for America.
I wish to thank especially The Christian Science Monitor, the venerable venue where most of these op-eds were published. The Monitor, a nondenominational paper with international circulation, remains singular in its welcome to moral thought. I prize its characterization of my work as "big-think in a personal voice." Big thanks to my editors over the years there: Linda Feldmann, Clara Germani, Kendra Nordin, Josh Burek. And, as ever, thanks to my husband Larry—indefatigable manufacturer of hope.
Carla Seaquist
Gig Harbor, June 2009
Carla Seaquist is an author, commentator, and playwright. Since 9/11 she has focused on commentary, writing on politics, culture, and ethical-moral issues, first for The Christian Science Monitor and since 2009 for The Huffington Post. An earlier book of commentary is titled Manufacturing Hope: Post-9/11 Notes on Politics, Culture, Torture, and the American Character. She also published Two Plays of Life and Death, which includes Who Cares?: The Washington-Sarajevo Talks and Kate and Kafka.
Ms. Seaquist's earlier career in civil rights culminated with the post of Equal Opportunity Officer for the City of San Diego and appointment to the Governor's Task Force on Civil Rights. She majored in international relations in college (School of International Service, American University) and graduate school (School of Advanced International Studies, Johns Hopkins University). Long a resident of Washington, D.C., she now lives in the "other" Washington (Gig Harbor), where she served on the board of Humanities Washington. Her husband Larry, a former Navy captain, served in the legislature as a state representative (Democrat) from 2006 to 2014, chairing for two terms the House committee on higher education.