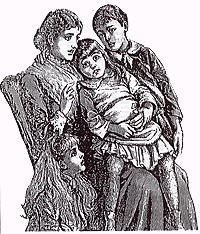 The toughest job in the world isn't being a mother, it's being a stepmother.
I've weathered a divorce, reinvented myself as a "new" woman, and even survived a fat childhood. But nothing compares with the rigors of my improvised role as stepmother to two teenage children. However, let's insert "stepparent" for "stepmother." From what I've seen, stepfathers don't have it much easier.
According to the Stepfamily Association of America, there are 35 million stepparents in the nation. Considering our numbers and the difficulties of our task, i.e., caring for someone else's kids (and one out of five children is a stepchild), surprisingly little conventional wisdom has emerged about how to renew our most important resource. But maybe that's because each stepfamily is unconventional in its own way.
As an eight-year veteran who's done some things right and, well, sometimes the last thing we know is what to do first, I want to alert prospective stepparents to the complexities of their undertaking. (And to the risks: Fifty-seven percent of second marriages fail, the chief cause being problems with the children.) You'll be improvising, too, within your own unique circumstances. For further information, consult your neighborhood stepparent.
Unpacking emotional baggage
The hope that springs eternal and accounts for remarriage itself is also the hope that blinds couples to something else springing eternal: a living, breathing past.
Reconstruct that past together and focus on the all-important question: In the hearts and minds of the children and their parents alike, is the divorce old business or is it still unfinished?
Regarding your own heart and mind, are you prepared to commit your best efforts to the children, knowing you can never supplant the absent parent? And how well do you know the children? More important than learning their preference in food is learning how they came to be the people they are, which means discussing character, child-raising techniques, etc. I include the "etc.," because what you don't know can lead to wedded blitz.
Defining your terms
Too many stepparents flatten themselves trying to please the children while requiring little in return. Remember, adjustment is a two-way process. Besides, wimps get no respect from kids.
You are shifting from observer to full participant, so make known early your preferences, values, idiosyncrasies. And know when to compromise. I learned to share my clothes and function on less sleep, but I stood by my ban on BB-guns and ethnic jokes.
Close encounters with the absent parent
For their own emotional health, children need the unobstructed love and attention of both their mother and father. Going against natural loyalties by bad-mouthing or blocking the absent parent can be your undoing. Be advised that this closeness may fuel the children's dream of their parents' reunion, but so does a forced separation. For you, if dealing with a former spouse is difficult, look on the encounters as isometric exercise.
Instant love takes time
Of all the myth-conceptions surrounding stepparenting, the most compelling is the expectation that, with the exchange of vows, mutual love will overwhelm you and the kids like a sea of honey. But, as Pascal knew, "The heart has its reasons which Reason cannot know," especially young hearts that have been ruptured.
Just hope to like each other, but be prepared for the times when you won't. Love, if it develops, must be earned. And, most likely, it will be glacial-paced in coming.
Priority no. 1: the marriage
To say that children rank second to the marriage sounds awfully harsh. But this is, after all, a remarriage, and a pledge of allegiance between the principals is in order. You must be assured that, if the marriage is not always first (and it can't be), then at least it is not always and forever second to the children.
It is cruelly unfair to the stepparent to be used as nothing more than another pair of hands around the house. Being No. 2 won't mean you'll keep trying harder; you'll be walking out the door sooner.
The great playoff of parents
Just as in biological families, children play parent against parent to get what they want, with the difference being that in a stepfamily there are more combinations to work.
Such manipulation, in which the child is really the loser, has less chance if uniform guidelines are established and enforced by all parents involved, including you.
Dare to discipline. And prepare now your response to the line that sooner or later crosses the eyes and dots the teeth of every known stepparent. It is: "I don't have to do what you want because you're not my [parent]."
Relax, relax, relax
New stepparents typically are bent on "succeeding" rather than simply "being," the way biological parents seem to go about their mission. Relax. Kids don't much like zeal, either. I cringed, and so did the daughters, when Dad's girlfriend in the film Shoot the Moon asked breathlessly, "How'm I doing?" only seconds after being introduced.
Again, relax. Keep your sense of humor and put it to use daily. Most important, be yourself—in clear focus, not soft.
Speaking of focus, the clear eye of a stepparent can be invaluable when everyone biological wears blinders. You can bring out a special quality or talent in a child, while also spotting the problematic.
Since messengers who blurt out bad news frequently come to a bad end, take care how you tell the child's parent about any problem. If outside help is needed, by all means get it. And if revised living arrangements are dictated, such as boarding school or reversed custody, do consider it. We did. In the long run, we hope the breather will be beneficial.
If all this seems hard-boiled, it is also hard-earned, imparted by a stepparent who has wrought a degree of order out of chaos only after inducing these axioms and applying them.
Though I doubt our outcome could ever have been different, getting there would have been less difficult for all had I gone in, not as a savior, but savvier. Now I know.
Carla Seaquist is a freelance writer.